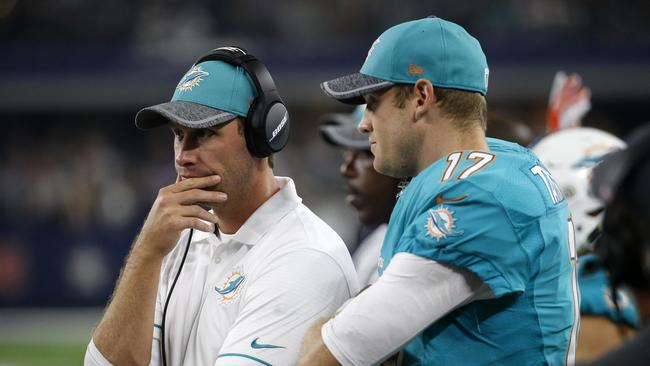 We are on the doorstep of the 2018 NFL season. But, it's already do or die for the Miami Dolphins, and the season has not even started. This is the time of year when all of us finfans are the most optimistic all season.. I got to say that I am pretty nervous about the outlook on the season. Here are some of the reasons:
The Dolphins have made some drastic moves since this time last year. Our best and most beloved players have been traded away: Ajayi, Landry, Suh, Pouncey.
Vegas has the Dolphins over / under on wins is 5.5.
ESPN Power Rankings have the Miami Dolphins as the worst team in the NFL.
Dolphins lost 3 of 4 preseason games.. Yea, I know, it is just preseason, but we have to take something from that (see the positive side below).
Dolphins have dumped, or traded away lots of their recent draft choices. What does that say about our scouting abilities?
On the positive side:
Last time the Dolphins were projected to win 5.5 games in a season was 2008; The Dolphins went to the playoffs in 2008.
Tannehill is healthy, and is ready to go. Additionally, we have 2 pro bowlers on the offensive line protecting him. I hope that this will make Tannehill NOT the most sacked QB in the league.
We have a young strong defense, and a super strong defensive secondary. It has been a long time since we have had such a strong secondary. Jones, Howard, McDonald, and our first round draft pick – Minkah Fitzpatrick. This is good.. After all – Defense wins championships!
We have some great young talent waiting in the wings on offense. RB Kalen Ballage, and TE Mike Gesicki are at the top of my list.
We lost 3 of 4 of our preseason games, but there were some shining moments. Our first team offense vs. Tampa Bay and Baltimore looked decent. Our final preseason win over Atlanta at least shows that our second teams are competitive. Our first team defense looked great.
So final thought on the season.. If the Dolphins tank, clearly there will be a coaching staff, and front office house cleaning. Putting myself in Stephen Ross's shoes, I have to be looking at the events of the past year and saying, "You traded away our best players, the ones that the fans loved. I have faith in you, the coaching staff, but you better know what you are doing".
So… as always, we wish our Dolphins the best for the 2018 season. Just hope that it's not a long season.