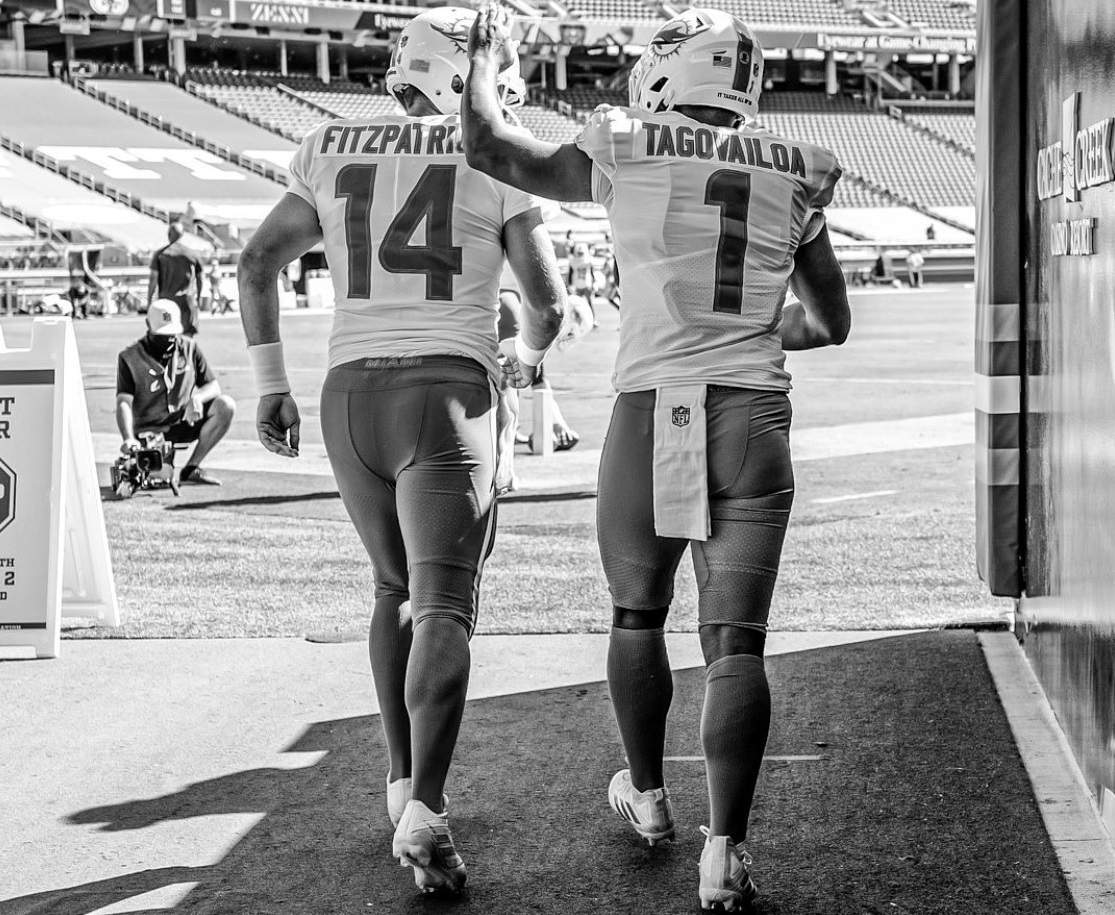 The shocker from last week. Fitz benched, and Tua named the started. Now that it has soaked in, it makes sense why. Read on…
Look... We all feel bad for Fitz. Damn.. After all, he is the one and only FITZMAGIC! But, he knew, and even said before the season started that he was there to keep the QB seat warm for Tua.
But we all thought in the back of our heads that if Fitz mis performs for 2 weeks in a row, we will certainly see Tua. But, Fitz wasn't doing half bad. He did have a scoreless 2nd half in the Jets game, and he had 2 (nearly 3) interceptions. Was that the ultimate turning point? Maybe.
Our team is amongst the youngest in the NFL. We have lots of new players too. And, with the lack of preseason, and joint workouts with other teams, we simply did not have enough offseason time to see Tua in action. Instead, Tua spends the first 6 weeks of the season learning from Fitz like a young Jedi.
We all love Fitz. But…. Chris Grier and Coach Flo were not building a mega team for the purpose of having Fitz as our QB. It was for Tua. So, what better time to put Tua in? By giving Tua 2 weeks to prepare for it. Not to mention, his perfect 2 for 2 performance in the Jets game!
We have a new, fortified offensive line that is preventing the big leaks. They are working good enough for Fitz, so imagine what we will see with Tua.
With all the young superstar QBs starting in this league like Burrow, Herbert, Jackson, and Murray, it is so amazing and exciting to watch the things that they do. It's is mind blowing! We know there is still a concern with ensuring that Tua is 100%. But Tua is so talented; enough so that he could avoid the danger. Most of all, we want to see how he is going to perform with our young and talented receivers.
We're not the only ones that want to see him. Our front office does too. Remember that we have some real buying power in the 2021 draft. In the awful event that If Tua is not the next coming of Dan Marino, we'll need to start thinking about drafting, or dealing for the best 2021 draft QB. Nine weeks should be enough time to make that assessment.
Tua is a born leader. And, we could not have anyone better representing our team. Even Nick Satin (not a spelling mistake) said "Of all the Alabama players, we never had anyone better to represent than Tua".
So, what do we have to lose? We know what we have in Fitz. We know that he is hot and cold. He is not going to be perfect all season. He was not going to be our QB for the next 20 years. So why not have Fitz continue the mentorship while he is still around.
WE LOVE YOU, FITZ!!!! But, it's Tua time.